Saving energy and using energy in an efficient and economical manner should be the national goal in the coming years, Deputy Prime Minister Trinh Dinh Dung said yesterday, at a conference reviewing five years of implementing the Law on Economical and Efficient Use of Energy.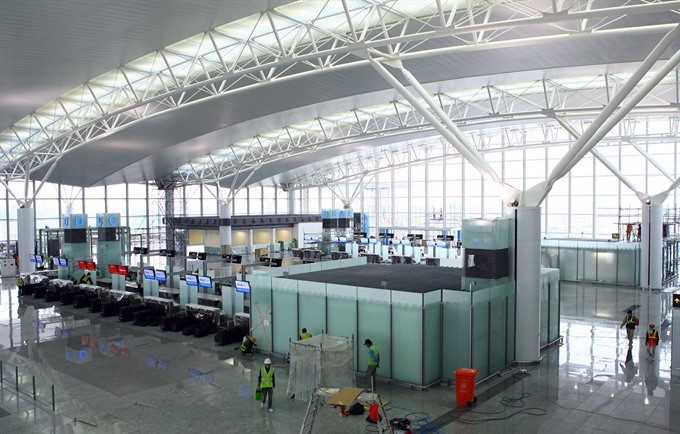 Terminal T2 of Noi Bai International Airport, Hanoi City, uses natural light in place of electrical lights whenever possible to save on power and lower energy bills. (Photo: VNA/VNS)
The Ministry of Industry and Trade reported that the national program on economical and efficient use of energy in the period of 2011-15 saved 5.65 percent of total consumed energy in the same period, equivalent to saving more than 11 million tons of oil.
In particular, the energy consumption of industrial manufacturing sectors has declined steadily. The steel industry's energy use fell 8.09 percent, the cement industry's 6.33 percent and the textile industry's 7.32 percent.
In households, about 700,000 solar energy water heaters have been installed, saving about 1.0 billion kwh per year, equivalent to over VND1.6 trillion ($70.3 million).
However, Deputy Minister of Industry and Trade Hoang Quoc Vuong pointed out a number of shortcomings in implementation of the law. For example, he said, enterprises and organizations still found it difficult to access low-interest loans and tax reductions and exemptions when implementing energy-saving projects. 
Deputy PM Dung said at the conference that many localities have enforced the law effectively, including Hanoi, HCM City, Da Nang, Hai Phong and Can Tho. However, energy saving activities in some sectors, such as transport, construction and agriculture, were limited, he added.
He said penalties for those violating the energy savings law were not a sufficient deterrent, with most being issued with warnings or information about energy saving regulations.
Low public awareness
Mr. Dung attributed the problems to lack of co-operation among authorized agencies to strengthen management and supervision, as well as the low awareness of enterprises and households.
In reply to the ministry's report that 85 percent of the people had been informed about energy savings, he said it would require time for people to internalize the change and act on it.
Deputy PM Dung said Vietnam would have to import coal for power generation starting next year, and would likely import liquified natural gas from 2023 to ensure energy supply. Thus, the development of renewable energy and the efficient use of energy would play a key role in reducing dependence on imported energy. 
He asked the ministry to collect and study opinions from authorized agencies and come up with solutions for implementing or amending the law, if necessary, before January 30, 2017.
He also asked the ministry to work with other ministries in formulating a national program on efficient and economical use of energy in the period of 2016-20, and submit it to the Government before January 31, 2017.