Preventing an economic recession, maintaining economic growth and ensuring social security will be the government's top priorities in 2009, said Prime Minister Nguyen Tan Dung.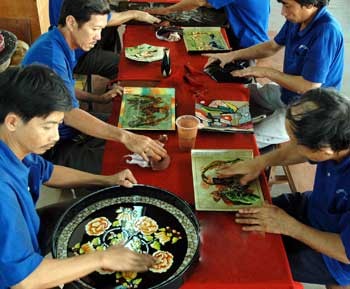 Producing lacquer paintings for export at a factory of 27/7 Company, Ho Chi Minh City (Photo: Viet Dung)
In an article about the country's 2009 socio-economic development orientation, the Cabinet leader stressed that the government will focus on five groups of solutions to achieve the set socio-economic targets, focusing on boosting production and exports.
Stepping up production is not only an urgent requirement in the current situation but also a main and regular task of the government, the PM said. He said economic growth cannot be maintained without boosting production and developing services.
Major solutions should target practical assistance for small- and medium-sized enterprises (SMEs) and household businesses that create numerous jobs but face more difficulties than other economic sectors, Dung said.
According to the government leader, Vietnam's export turnover represents around 70 percent of its GDP, involving tens of millions of labourers in agriculture, aquaculture, as well as handicrafts and tourism services. Thus, the government will map out measures, especially financial and monetary policies, to support this important sector, he stressed.
The PM also emphasised the importance of expanding the domestic market and increasing domestic consumption, saying that this is not only an urgent demand in the context of the narrowed export markets but also an important development orientation for building an independent and autonomous economy under the conditions of globalisation and international economic integration.
He pointed to the need of appropriate policies for local businesses to develop in a quick and sustainable manner in both domestic and international markets.
Regarding investment and consumption stimulation, the PM said budget, government bond, ODA and credit capital will be invested in transport and energy projects to facilitate goods production and circulation, and in socio-economic infrastructure projects in rural areas.
To deal with the 2009 budget difficulties, the government plans to issue additional bonds to mobilise more capital for development investment, Dung said.
He added that the government will spend 17 trillion VND (1 billion USD) to offset around 40 percent of commercial lending interest rates as support for businesses of all economic sectors, mainly SMEs, to maintain production, business and create more jobs.
The government will also provide guarantee for machine and equipment importers to get loans for production development and technological renovation.
Regarding the maintenance of social security and poverty reduction, PM Dung said that the government plans to make adequate budget allocations and increase national reserves, particularly food. This is necessary for the implementation of social welfare policies and increase basic salaries for civil servants and public employees, he said.
The government will provide food for people and restore infrastructure facilities in the areas affected by natural disasters and epidemics as well as carry out urgent measures to reduce poverty in the 61 poorest districts in the country, he added.
Financial and monetary policies play a decisive role in maintaining and boosting production and exports, stimulating investment and consumption, encouraging the use of locally-made products, reducing poverty, stabilising the macro economy as well as ensuring social security and the safety of the system of credit institutions, according to the PM.
He said in 2009, the government's direction must ensure the adequate mobilisation and efficient use of capital resources such as budgets, government bonds, ODA and credits.
The PM said that drastic and flexible management in line with the real situation comes last on the list of the government's groups of measures set for this 2009 year.
Ministries and localities should pay special attention to forecasting work in order to make timely and suitable adjustments in specific situations. They should also focus on finalising mechanisms and policies, and boosting administrative reform, especially in investment management, capital construction, disbursement, site clearance compensation, tax and customs regulations and credit guarantee, the government leader said.
He called for further information campaigns to help people be fully aware of the country's situation and tasks, thus creating a high consensus in their ways of thinking and doing.
State agencies should publicise policies and management mechanisms. Press agencies should disseminate the Party and State's policies and release correct information that is useful for the country's development, the PM said.
"2009 will be a year of big difficulties and challenges for the country's development but we firmly believe that under the Party leadership and the State management with the solidarity of the entire political system, the Party, the people and the army, we will create an integrated strength to successfully implement socio-economic development tasks set for the year by the National Assembly," the Government leader said in conclusion.