Deputy Prime Minister Hoang Trung Hai has sent a dispatch instructing the Ministry of Agriculture and Rural Development to examine the fertilizer demand and domestic production capacity to ensure enough supply in 2013.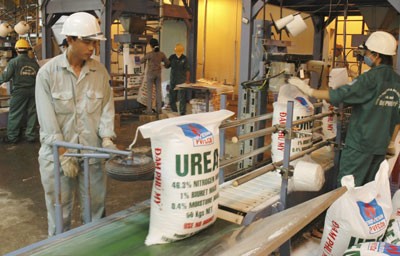 A fertilizer production plant in HCMC (Photo: SGGP)
The State Bank has been ordered to work with the ministry to determine the domestic demand for fertilizer for the year 2013. If domestic production is insufficient, the State Bank should provide enough foreign currency to import fertilizer.
Dep PM Hai also instructed the Ministry of Agriculture and Rural Development to guide localities to use fertilizer sparingly and encourage them to use synthetic fertilizers such as NPK, microbial organic and bio organic fertilizers.
The Ministry of Industry and Trade should order units to produce urea and diammonium phosphate fertilizers and import more urea if necessary to balance the domestic demand.
Vietnam Fertilizer Association should work with authorized organs to tackle production and trade of fake fertilizers and give proposals to ensure of adequate supply of fertilizer in 2013.