Ho Chi Minh City on April 29 held a grand meeting to celebrate the 36th anniversary of the liberation of the south and national reunification (April 30).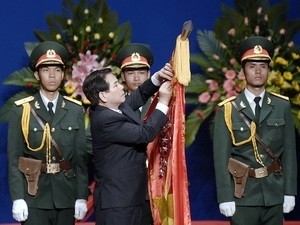 State President Nguyen Minh Triet at the meeting (Photo: VNA)
Prominent among those present at the ceremony were State President Nguyen Minh Triet, former Prime Minister Phan Van Khai, and Chairman of the Vietnam Fatherland Front Central Committee Huynh Dam.
Other Party members and municipal authorities also joined the event, along with revolutionary veterans, heroic Vietnamese mothers, heroes of the armed forces and labor.
Addressing the ceremony, Chairman of the Ho Chi Minh City People's Committee Le Hoang Quan affirmed that the April 30 Victory and the 1975 Great Spring Victory were victories of the cause of national, social and human liberation of the Vietnamese people under the leadership of the Communist Party of Vietnam and President Ho Chi Minh.
Developing the victory, Ho Chi Minh City determines to overcome every difficulty, implementing the renewal cause to build the city into a socialist, civilized and modern city to be worthy to the title of the heroic city named after President Ho Chi Minh.
The city also determines to implement Party resolutions, competently organize the elections to the 13th National Assembly and the People's Council at all levels in the 2011-2016 term, as well as control inflation, stabilize the macro-economy and ensure social welfare, to contribute to boosting production, recovering economic growth and improving people's lives.
Also on the same day, President Triet, Party and government and municipal officials and laid a wreath at the city's Martyrs' Cemetery.