A grand meeting took place in Ha Noi on February 2 to mark the 79th founding anniversary of the Communist Party of Vietnam – February 3.
Among those who attended the event were Party General Secretary Nong Duc Manh, President Nguyen Minh Triet, Prime Minister Nguyen Tan Dung, National Assembly Chairman Nguyen Phu Trong and Fatherland Front Central Committee President Huynh Dam.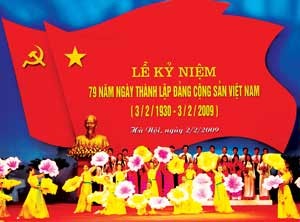 Singers and dancers perform during Monday's ceremony held in Ha Noi to celebrate the 79th anniversary of the Communist Party of Vietnam
Addressing the ceremony, Ha Noi Party chief Pham Quang Nghi reviewed the development of the Party over the past 79 years.
"We are proud of the great victories that our Party and nation have won in the struggle for independence as well as in national construction," he said.
Nghi said that, with Ha Noi's role as the heart of the nation, the capital's Party Committee and residents have always tried their utmost to successfully complete political tasks and achieve socio-economic targets, as well as working to ensure high levels of security and defence.
Despite facing a number of difficulties, the capital city posted an economic growth rate of 10.58 percent and recorded a 35.5 percent increase in export turnover during 2008.
The Ha Noi party chief said that 2009 will be a significant year for the capital in successfully implementing the resolutions of the 10th Party Congress and the 14th Municipal Party Congress.
This will also be the year that Ha Noi focuses on completing key tasks in preparation for the celebration of the 1,000th anniversary of Thang Long-Ha Noi in 2010, he added.