Kon Tum's Department of Industry and Trade announced the details of two granite reserves in the Central Highlands province Monday after a lengthy investigation. These sites contain an estimated total of 20 million cubic meters of granite.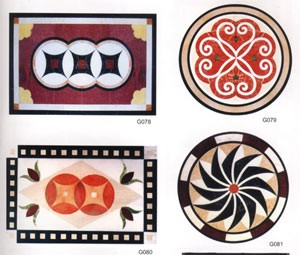 Floral designs made of granite are suitable for decorating floors
The investigation was carried out by the South Viet Nam Geological Mapping Division.
The first site is in the northeastern commune of Sa Binh while the second is in the nearby commune of Sa Son. Both belong to the southeastern district of Sa Thay in Kon Tum.
Local geologists said the sites contained high-quality stone of a single rock type in large blocks. The granite is both strong enough to meet construction requirements and suitable for decorating walls and floors.
Previously, a geologist found a high-quality serpentinite reserve of 300,000 cubic meters. Serpentinite is a metamorphic rock made of silicate materials. It is a good material for making fine arts products.
None of these sites have yet been exploited. Local officials have encouraged local firms to work out a production plan together with a project to preserve and develop the sites.