Solidarity among the Party and people has enabled the country to stabilize its economy and achieve social security despite the global financial crisis, Party General Secretary Nong Duc Manh said.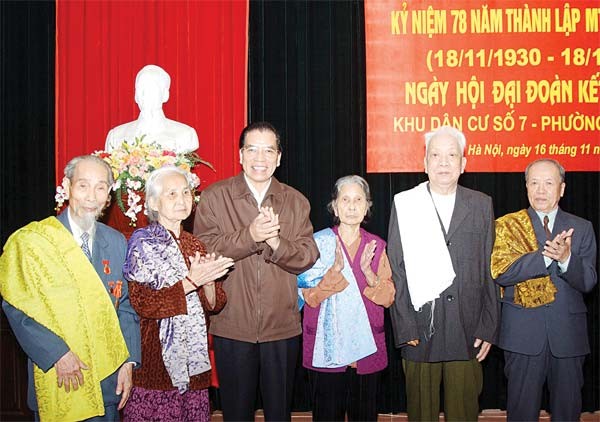 Party leader Nong Duc Manh (L, 3rd) presents silk to some elderly people in Hanoi yesterday
He was speaking yesterday at a function held in Ha Noi to welcome the Great National Solidarity Festival to mark the 78th anniversary of the Vietnam United National Front (November 18).
President Nguyen Minh Triet also attended the event along with officials from the capital and Ba Dinh District and about 100 local residents.
The two leaders presented gifts to some Heroic Mothers, outstanding families, and poor households.
On the same day National Assembly chairman Nguyen Phu Trong attended a similar meeting in Dong Son, a Catholic-dominated hamlet in Lien Son Commune, Kim Bang District, Ha Nam Province.
He expressed the hope that local residents would continue with their tradition of reverence for Jesus Christ and love for the country.
He too offered gifts to some Heroic Mothers and families that have made great contributions to building solidarity among the people.
In Ho Chi Minh City, about 1,600 residential areas held the Great National Solidarity Festival. Permanent deputy secretary of the city Party Committee, Nguyen Van Dua, visited a residential quarter in District 5, where a meeting was held to celebrate the festival.
Other top city officials, including People's Council chairperson Pham Phuong Thao and People's Committee deputy chairpersons Nguyen Thi Thu Ha and Nguyen Thi Hong, also visited several localities to attend festivals and give gifts to poor families.