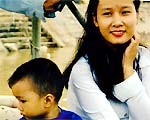 The woman bravely fights AIDS
The United Nations AIDS organization (UNAIDS) together with the United Nations Volunteers and Ho Chi Minh Women's Union held the launching ceremony of GIPA project "Greater Involvement of People Living with HIV/AIDS in Ho Chi Minh City".
The aim of the project is to provide opportunities for the voluntary participation of people living with HIV/AIDS in HIV activities.

Activities of the project include online consultancy via the website of GIPA, direct answer at the project office in 71 Vo Thi Sau, district 3, Ho Chi Minh City, education of these people and their families how to use computers.
The project will run for three years (from 2006 to 2009), for the benefit of people living with HIV/AIDS.

Related link:
- Website of the project