Vice President of the Vietnam Fatherland Front Central Committee (VFFCC) Le Ba Trinh visited the Vietnam Buddhist Sangha (VBS)'s Executive Board of the central province of Thua Thien-Hue on May 13 to extend his greetings on the occasion of Lord Buddha's 2560th birthday.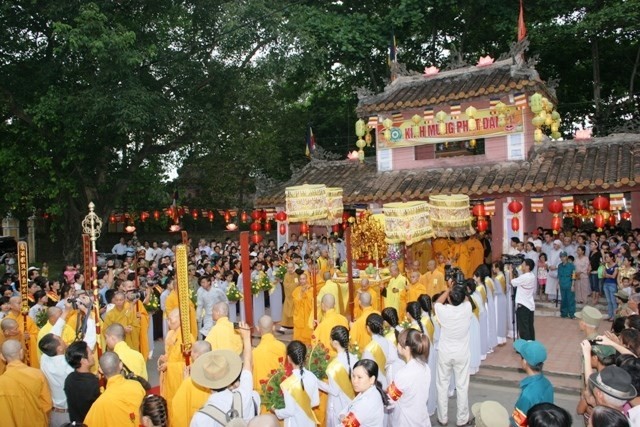 Buddha's Birthday commemoration in Hue city. (Source: sugiachanh.com)
He was companied by provincial officials and Eivind Archer, Country Representative in Vietnam for Norwegian Church Aid.
Trinh handed over a letter of greetings from VFFCC President Nguyen Thien Nhan to Buddhist dignitaries, monks and nuns at home and abroad on the celebration.
He wished local Buddhist followers a happy festive season, noting his hope that they will join hands in building a strong national unity bloc.
The official lauded local Buddhist dignitaries and followers for their timely support of local fishermen who are affected by the recent mass fish deaths.
The VBS's chapter in Thua Thien-Hue has partnered with the Norwegian Church Aid to effectively implement projects on natural disaster mitigation and climate change adaptation, and improving people's capacity to cope with natural disasters.
Most Venerable Thich Khe Chon, permanent member of the VBS's Executive Council in Thua Hien-Hue and deputy head of the VBS's Executive Board in the province, thanked Party and VFF leaders as well as authorities and organisations for their attention to local Buddhists on this occasion.-VNA