The Ministry of Transport on November 18 hosted a ground breaking ceremony of the Ca Mountain Pass Tunnel project that will run through the central provinces of Phu Yen and Khanh Hoa.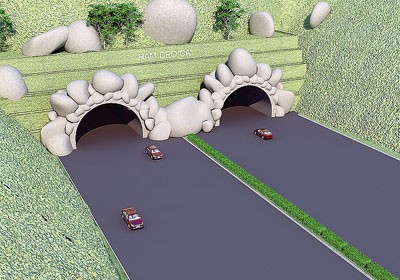 An artist's impression of Ca Mountain Pass Tunnel
The 13.4 kilometre road project will eventually include two tunnels. Each tunnel will have two lanes. The second tunnel construction will begin 20-30 years after the first one is complete.
Scheduled to be fully operational by 2016, the first 4.4km tunnel and 9km of road and bridge extension of the tunnel route will greatly help reduce traffic accidents and congestion on the Ca Mountain Pass area on National Highway 1A.
Travel time will reduce to one fourth the current time used--saving at least US$10 million in transport costs annually.

Related article:
Ministry plans tunnel through Ca Mountain Pass