Ha Long Bay in northern Vietnam has received a certificate to participate in the final round of voting for the honor of being named as one of the New 7 Wonders of the World.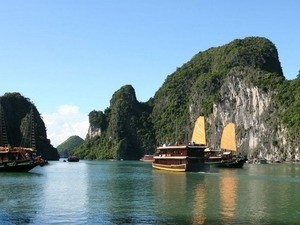 (File) A view of Ha Long Bay in Quang Ninh Province, northern Vietnam
Bernard Weber, Chairman of the New Open World organisation, which is hosting the vote, handed over the certificate to Quang Ninh Province on Sept. 27.
Weber said Ha Long Bay's natural beauty made a strong impression on him the first time he visited the site. He also promised to vote for Ha Long to become a new natural wonder of the world.
According to Pham Minh Chinh, Quang Ninh Provincial Party Committee Secretary, many methods for voting will be utilized in the final stages, including via SMS message.
He said Quang Ninh Province would invest in tourism infrastructure and services and take measures to protect the environment in Ha Long Bay with the aim of turning the site into an attractive destination for domestic and foreign visitors.
The result of the voting campaign for the New 7 Wonders of the World will be announced on November 1.