"1,000 high-end automobiles are now ready for the activities of the Asia-Pacific Economic Cooperation (APEC) Summit in Ha Noi in November", said a Government Office official with Sai Gon Giai Phong reporter on Sunday.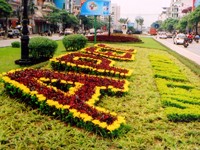 Ha Noi streets are now ready for APEC Summit in November (Photo: VNA)

Among 300 new cars, 42 Mercedes E280 ones are for leaders of APEC economies and heads of delegations; 73 Mercedes E200 are for ministers and other senior officials.

All of these automobiles are expected  to be auctioned for the state budget after the event.

Drills for drivers have been carried out with various routes from the hotels to the National Conference Center and other places as well.

Meanwhile, 500 youth volunteers of Ha Noi took part in a sanitary campaign to welcome APEC during this weekend.

They cleaned up the streets, helped maintain traffic order and safety in main streets, public places and other activities in residential areas.

On this occasion, the Ha Noi Youth Union will assign volunteer groups to stand at key routes to help instruct street-users during traffic jams.

The campaign will last until November 20.