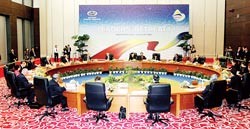 APEC 2006 Leaders Meetings took place at Ha Noi last week.
State President Nguyen Minh Triet awarded the first-class Labor Medal to the authorities and people of Ha Noi for the city's excellent achievements in organizing the APEC 2006 Leaders Meetings at a ceremony to review and celebrate the event yesterday
.
The friendliness and hospitality of the people of Ha Noi have made a deep impression on international visitors and will remain forever in their heart, Mr. Triet said.
The President also praised the city's work of organizing, preparing logistics and ensuring security for the APEC 2006 Leaders Meetings which took place in Ha Noi last week.