Crowded morning wholesale areas in Ha Noi and HCM City are usually accompanied with overloaded, dilapidated motorbikes that surprise new-comers to the two cities and haunt locals.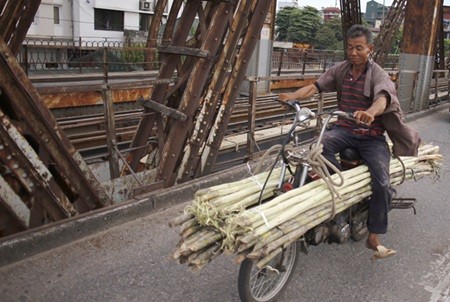 A man carries sugarcane trees on his dilapidated motorbike across Ha Noi's Long Bien Bridge. Newcomers are often surprised by the number of dilapidated motorbikes transporting fruit and vegetables in Ha Noi and HCM City. — VNS Photo Viet Thanh
The motorbikes usually have one or two people on them, carrying tens of kilos of fruits, vegetables or boxes of goods.
They are noisy, smoky, torn and without mirrors, lights or motorbike fairings.
This week, Ha Noi Traffic Police launched inspections of self-modified three-wheelers that violate traffic regulations and dilapidated motorbikes to help reduce traffic accidents.
Besides regular patrols, police are on roads leading to wholesale markets like Dong Xuan Market and nearby Long Bien Market, and other farming markets and store houses in the city between 4am and 6am.
On Monday, traffic police seized 94 vehicles, including 72 motorbikes. All the seized vehicles were in poor condition and the owners failed to show valid papers.
Dao Vinh Thang, head of the municipal police department, said despite a ban, many self-modified three-wheelers were being driven illegally by people posing as wounded war veterans, while old motorbikes were being used to transport unwieldy goods through city streets.
The traffic police will intensify the checking of run-down motorbikes and three-wheelers to check whether they are unregistered vehicles, being driven without driving licences or are crossing the red line.
Nguyen Van Dung, a transporter who works at Long Bien Market, said that they usually bought old bikes to carry goods.
"As long as the vehicles can run and carry goods," he said, adding he did not mind about the vehicles' look or so-called "technical standards" of fuel emission.
The owners of the vehicles were low-income earners and the vehicles were tools helping them to earn money, he said.
"It's hard for us to make a living if vehicles are confiscated," he said.
Early this month, Ha Noi Police also cracked down on self-modified three-wheelers that are driven illegally by people posing as wounded war veterans.
Most of these have been structurally changed or camouflaged as wounded veteran's vehicles to carry goods.
"Drivers of vehicles usually swagger around. We had to form patrols to control and co-ordinate with the police along Lang Road to these vehicles," Dinh Tien Vu, Deputy Leader of Traffic Police Team No.3 said.
Although users of three-wheelers must be war veterans, most offenders are in their youth, Vu said, giving an example of a 21-year-old man who was caught while using his three-wheeled motorcycle to deliver ice.
In a related development, HCM City Traffic Police said last week, they imposed administrative fines for nearly 600 violations after a week-long crackdown on motorbikes that did not meet road safety standards.
Most of the vehicles involved in violations have had their frames or engines replaced or upgraded, were being driven without valid papers or number plates or were not safe for transporting people or over-sized goods.
Ha Van Hung, deputy head of Cho Lon Traffic Police Team, said vehicles without registered papers or with frame and engine numbers that were not in accordance with their registered papers would be transferred to investigative police for determining whether they were used to commit crimes.
The vehicles would be confiscated if there was no proof that they were not involved, he said.
He said inspections of old and deteriorating motorbikes would be conducted regularly in the future because these vehicles were the main reason for the increasing number of traffic accidents in the city.
The Prime Minister's resolution No 32/2007/NQ-CP, dated 29 June, 2007, banned all home-made vehicles, such as dilapidated trucks and unregistered and self-modified three and four-wheelers, from the streets as of June 2008 to curb road accidents and congestion.