The Ha Noi Police Department will increase manpower along favoured routes to ensure traffic order and combat traffic congestion during rush hours, the director of the department said.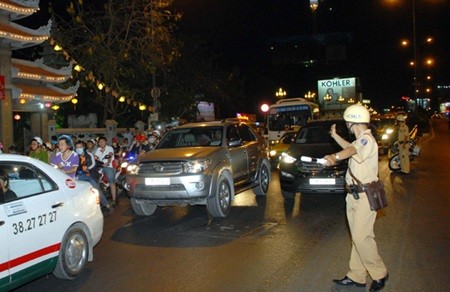 Traffic police on duty in HCM City's District 3. More police will be deployed along busy routes to combat congestion during peak hours in HCM City and Ha Noi. — VNA/VNS Photo Manh Linh
In addition to the deployment of all traffic cops, about 200 mobile policemen will be stationed along traffic routes during rush hours in Ha Noi from October 19 till February 28, 2016.
Senior officials of the order police department, traffic police, railway police and police chiefs of districts and towns will deploy more forces from 6.30am to 8.30am and from 6pm to 7.30pm daily to ensure traffic safety on routes in the cities that often face traffic jams.
The police will instruct and guide vehicle drivers to strictly observe traffic regulations.
They will also handle cases of violation strictly and resolve immediately cases of road accidents to prevent traffic jams.
According to the Ha Noi Transport Department, traffic jams during peak hours were mainly caused by construction work and flooding due by heavy rains in the city.
Coping with traffic woes
HCM City transport authorities have unveiled several measures to ease traffic congestion like rationalising rules, widening roads, installing cameras and co-ordinating traffic lights.
At the Nguyen Van Linh – Nguyen Huu Tho intersection in District 7, for instance, vehicles are not allowed to turn left, and it immediately reduced traffic jams when the change was made in end-September. Vehicles now have to go 200m from the junction in either direction on Nguyen Van Linh, make a U-turn and come back to make a right turn.
But this is only a temporary solution, with a three-level flyover planned to be built in future.
Similarly, An Suong intersection will get an underground road to ease the congestion. National Highway 1A from An Suong to An Lac is designed for only 10,000 vehicles a day but handles five times that number. To improve things, the motorbike lanes are set to be expanded by three metres.
At the Nguyen Van Cu – Tran Hung Dao intersection in District 1, authorities have banned buses at 6-9am and 4-7pm, but in the long term a road will be built to provide access from Nguyen Van Cu Bridge to Vo Van Kiet so that vehicles no longer have to come down to the intersection to make a U-turn to reach the highway.
In Go Vap District, more roads have been widened and built, yet the traffic situation has worsened because it is a hub for streets coming into the city from the outskirts.
City transport authorities have suggested expansion of Phan Van Tri Road and build Hang Trong and Hang Ngoai bridges