Party General Secretary Nguyen Phu Trong has underlined several tasks the city should focus on in the next five years to develop itself as a key economic region in the north and the country.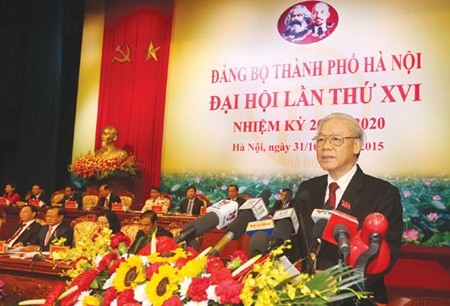 Party General Secretary Nguyen Phu Trong underlines tasks that Ha Noi should focus on in the next five years in the municipal Party Organisation's 16th Congress. (Photo: VNA/VNS)
The Party leader was addressing the Ha Noi Party Organisation's 16th Congress that began yesterday, with 495 delegates representing more than 390,000 Party members meeting in the city.
The Party chief said Ha Noi had to concentrate on adjusting the growth model. It needed to make breakthroughs in rural modernisation, administrative reform and human resources improvements.
Given rapid urbanisation, it was necessary to improve planning management and infrastructure systems, and ensure construction order and traffic safety. The city also needed to deal with pressing social issues, such as accommodation, drainage and waste treatment, he said.
The capital should engage in Party-building at all levels while maintaining political stability, social order and safety, and promoting local cultural values, he added.
The Party leader described the building and development of the capital as the responsibility of the municipal Party Organisation, authorities, people and national Government.
President Truong Tan Sang, Prime Minister Nguyen Tan Dung, National Assembly Chairman Nguyen Sinh Hung and other former Party and State leaders also attended the congress.
Municipal People's Committee chairman Nguyen The Thao reported that Ha Noi's economy had been growing remarkably over the past five years. Gross domestic product (GDP) increased 9.23 per cent on average – 1.58 times higher than that of the country.
The city's gross regional domestic product (GRDP) in 2015 was about US$27.6 billion. Income per capita is approximately $3,600, 1.8 times higher than in 2010.
Services, industry-construction and agriculture make up 54 per cent, 41.5 per cent and 4.5 per cent of the economy, respectively.
The State collected about VND714.5 trillion ($32 billion) over the year, a yearly increase of 7.1 per cent.
The Ha Noi Party Organisation's 16th Congress will run until Tuesday.