The People's Committee of Ha Noi hosted a peace cultural festival marking the 60th anniversary of Ha Noi's Liberation Day (10th October, 1954 and 10th October, 2014) and 15th anniversary since Hanoi being recognized as the city for Peace by UNESCO, at Ly Thai To flower park on October 12.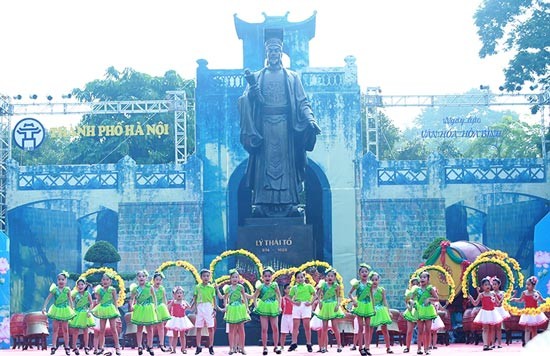 Many art performances were hosted in the festival (Photo:SGGP)
The incense offering ceremony at the statue of King Ly Cong Uan is the first activity to open the festival. King Ly Cong Uan who established the former capital Thang Long (known as Ha Noi capital nowadays).
On behalf of the capital's authority and people, Chairman of Ha Noi People's Committee Nguyen The Thao reviewed the capital outstanding achievements over past 15 years.
For any historical periods, peace brings not only to a deep humanity value but also is a basic condition for the country's sustainable development, Chairman Nguyen The Thao stressed.
Over past 15 years, the citizen always has proud of the title "City for peace" and has not stopped striving to get great comprehensive achievements in the various fields of politics, economy, culture and society, defense and security, integration and development. 
At the ceremony, the Ha Noi People's Committee awarded the title of "the capital's honorary citizens" for 12 foreigners, who had contributions to the capital's development over the various fields. 
15 years ago, Ha Noi was received the title of "City for peace" by UNESCO at Bolivia's La Paz city on 16th July, 1999 that is considered as a reorganization of total international community for its social economic, educational and cultural achievements.
Until now, Ha Noi has remained the sole city in Asia-Pacific region to receive the "City for Peace" awards by UNESCO and become the large center of politics, economy, culture, science and technology of the country.
Many activities also took place during the festival including 1, 500 representatives from ministries, departments and diplomacy agencies, foreigners and citizens participated in marathon competition. Meanwhile, more than 300 staffs of Department of Foreign Affair and Trade took part in racing competition around Hoan Kiem Lake.