Ha Noi is mobilizing all its resources to clean up its streets and stabilize people's lives as the floodwaters drain.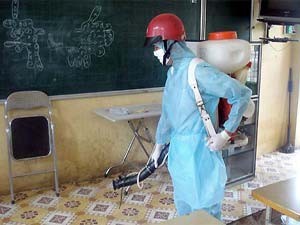 A medical worker sprays cleansing substances at a primary school in Ha Noi

When it finally stopped raining yesterday, the number of flooded areas was just six as a result of non-stop pumping operations.
The water level in many rivers like the Bui, Tich, Nhue, Cau, Ca Lo, and Thanh Ha have receded but remain at alarm level II, while the Red River has gone down to below alarm level I, Ha Noi authorities said.  
To prevent the rivers from rising again and flooding the city, the authorities have closed the Thanh Liet dike connecting To Lich and Nhue Rivers, and the Lien Mac drainage at the Nhue River.
Repairs have been done to some embankments, reservoirs, and irrigation works, the Irrigation Department said.
The National Steering Committee for Flood and Storm Control and Prevention has ordered the Hoa Binh and Tuyen Quang hydropower plants to conserve water for the dry season.
There have been no outbreaks of cholera, typhoid, or dysentery, the Ha Noi Preventive Health Center reported.
But the number of patients with fever has increased sharply, with a few cases diagnosed as dengue fever, the center said.
Emergency plans are in place for preventing and treating epidemics, with all 29 districts stocked with enough drugs and other medical supplies.
After two days of cleaning up, around 1,500 schools have opened again. A further 335 remain closed, waiting for the floodwaters to drain.
Thousands of houses in My Duc, Thach That, and Hoang Mai districts, seriously damaged in the flooding, could collapse at any moment, the authorities warned.
The Vietnam Insurance Association estimates that around 1,000 cars have been damaged in the flooding. It added that insurance companies like Bao Minh, Bao Viet, and PJICO have received 600 claims out of which 500 could be eligible for settlements of more than VND50 billion (about US$3 million).
Meanwhile, a cold front that has moved in from China will start chilling northern and central provinces today, the weather bureau said.
Moderate to heavy rains will occur as a result accompanied by northeasterly winds of force 3 or 4. Coastal areas will see winds of force 5. The seas off the northern and central regions will have winds of force 6 or 7, or even higher.