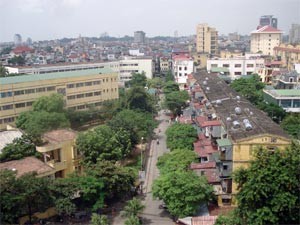 A Ha Noi scene (Photo: Hoang Uy)
Foreign construction companies like Korea's Charmvit and Keangnam, Japan's Riviera and Singapore's Antara Koh Development are investing or hoping to invest big bucks in hotel construction in Ha Noi as the city's real estate market heats up.
Charmvit Group is already licensed to invest US$80 million and build a five-star hotel on a two-hectare site in the center of town. Construction of the 564-room hotel is scheduled to begin this July and take until the fourth quarter of 2009.
It's still early days for Keangnam and Riviera, which at this stage are competing for a license to build a major hotel on Pham Hung Street.
Keangnam is prepared to invest US$500 million in the project and finish it by early 2010 and, to improve its chances of landing the job, has promised to give the city US$5 million if it gets the license.
Riviera too has pledged to invest US$500 million and reckons it can complete the hotel by the end of 2009. Like Keangnam, it has promised a donation for the city, although only US$3 million in the Japanese company's case.
Riviera looks like it will win the race as the Ha Noi People's Committee has announced that the Japanese firm is their preferred partner. So as not to disappoint the Koreans, Ha Noi's government will likely grant them several construction projects in Cau Giay Urban Zone.
Like Charmvit, Singapore-based Antara Koh Development already has its license in hand. It is teaming up with the Ha Noi Housing Development and Investment Company to build a US$240 million complex of houses, offices and hotels.
Property prices in Ha Noi are going up almost by the day, driven partly by the city's picturesque landscape and sound infrastructure. As examples, a tenth-floor apartment in the Vimeco building has increased from US$690 to US$1,000 a square meter, while an apartment in the Tay Trung Hoa - Nhan Chinh Urban Zone costs at least US$1,000 a square meter to buy.
According to Trieu Dinh Phuc, director of the Ha Noi Planning and Investment Department, dozens of foreign companies covet construction projects for the city's hi-tech parks, new suburbs, hotels, offices, apartment buildings, banks, shopping centers and supermarkets.