An international consultative contract, establishing an overall plan for Ha Noi by 2030, was signed by the Ministry of Construction December 26 in Hanoi.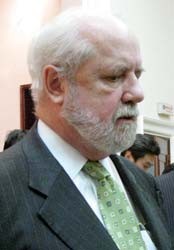 Bradford Perkins, chairman of Perkins Eastman (Photo: SGGP)
The contract was awarded to a partnership of Perkins Eastman, one of the biggest urban and interior designers in the US, and two Korean firms, Posco Engineering & Construction and Jina, with a combined capital of $6.4 million.
SGGP caught up with the chairman of Perkins Eastman, Bradford Perkins, to discuss his ideas for Ha Noi's development.
Reporter: Has the partnership any primary ideas for Hanoi?
Mr Perkins: At present, we are collecting information to understand the actual state of Hanoi. Maybe it is still soon to say anything about the future of Hanoi.
After Tet, we will begin to discuss important points in the plan. You can believe that Ha Noi's nature and history will be preserved.
Old centers and historic buildings will be an important basis for Ha Noi to become the most original of cities.
Q: Does the partnership heighten the factor "understanding Ha Noi"?
A:  Understanding Ha Noi is the first duty that we have. We will coordinate with domestic consultants to find out problems that Ha Noi is facing and handle them.
This is not the first time we've carried out such a large project. As professional consultants, we have to study the city carefully before beginning the project.
We need local opinions and international experience to aid our study.
Q: Could you tell our readers more about problems that Ha Noi will meet?
A: There are a lot of problems. I will give you some examples.
First is traffic, if the number of cars in Hanoi increase as greatly as China, it is very difficult for other vehicles to move in the city.
Second, when Ha Noi develops trade and service centers to international standards, they should not be placed in the old center.
Third is sustainable environmental development.
Another problem Ha Noi will have is to deploy industrialization. Industry will develop strongly. We have to direct development so as not to affect the quality of life in Ha Noi.
Q: Ha Noi has adjusted the overall plan eight times. So, will the project change?
A: We will design Hanoi's plan with a common scope but still permit flexible adjustments.
We will do the plan as a stable framework and give directions for the future. For example, our city, Washington DC was planned 200 years ago. Although the city has changed a lot through the last 200 years, the basic planning ideas still exist.
Our important idea is creating a live document permitting flexible changes and living with those changes.
Q: Is one year to study and plan for Ha Noi enough?
A: We understand that there is much to do with such limited time. However, we will try our best to organize and conduct works. I think that the time is enough for us to complete our studies.