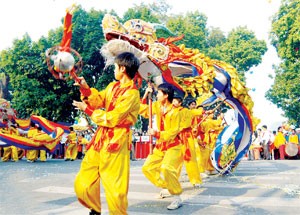 Many festive activities are held in the streets of Ha Noi to welcome APEC this November
The APEC summit is nearing and Viet Nam's capital is busy putting on a better face to welcome the international visitors.

The locals seem excited about the event. "It really is an honor for Viet Nam to be chosen to host the Asia-Pacific Economic Cooperation Summit. It's also a chance to show the world a peaceful, friendly and cooperative Viet Nam," said retiree Mr. Pham Manh Bao.
Not just talking, he got his children to clean up the narrow lane near his house as "the APEC convoy will pass by", as he put it.
These days Ha Noi seems more sparkling at night with the flash lights along the main streets. The flowers, trees and carpets of grass give the city a pleasing look.
Hanoians are fully aware of the event. "We will receive many leaders from the APEC economies. Ha Noi won't let them down", said a vendor in Hai Ba Trung Street who will halt his trade for two weeks as a gesture of respect.
In another part of town, eager city folk have been flocking to a colorful festival called "Ha Noi Welcomes APEC 2006" near Sword Lake. "I feel proud that Viet Nam will be receiving many distinguished visitors from all over the world," said a junior high schooler in the crowd.
Locals are excited with the event
Meanwhile the XQ Embroidery Company is busy preparing for a reception at Nguyen Thai Hoc Exhibition House, where China's President Hu Jintao and his wife will come on November 17.
The APEC Organizing Committee says some 5,300 official delegates have registered for APEC-related meetings, and that the best hotels are ready to serve the visiting delegates, entrepreneurs and journalists.
Hotels chefs are eager to show off their talent. Ha Noi's Sofitel Metropole has been chosen to host the APEC Gala Dinner and nine banquets, and has promised an impressive menu in response.
The Sheraton's chef even contacted some foreign hotels where US President George Bush had stayed to ask about his culinary tastes.
The security people are busy too and are making an all-out effort to prove that Viet Nam is a safe place for foreigners. Police officer Pham Ngoc Viet and his colleagues are spending the nights patrolling the main streets of the city. "All for APEC!" he said with a broad smile.