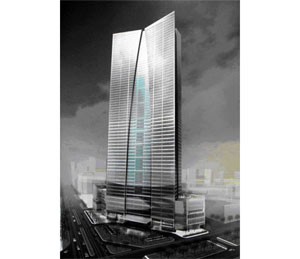 An artist's impression of the Ha Noi City Complex building
Ha Noi is set to be home to a 65-storey building, the highest ever in the city. The new building will be called the Ha Noi City Complex.
SA Coralis, a company from Luxembourg, will invest US$114.6 million in the biggest FDI project ever undertaken in Ha Noi.
Covering an area of 14,094 square meters, it will be built on a foundation of 6 lower storeys. A bit of greenery will be planted every four floors or so to help keep the air clean.
At the moment, the city's highest building is a 138-meter-high apartment b
lock with 34 storeys in the Trung Hoa-Nhan Chinh New Urban Area.