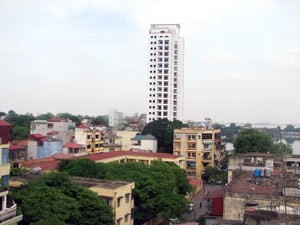 Planning on developing Ha Noi metropolitan is made by its inhabitants (Photo: T.C).
The draft on a general planning to develop Ha Noi metropolitan until 2020 will be introduced at Information and Exhibition Center, located at 45 Trang Tien Street in Hoan Kiem District, from August 8 to 13, aiming to collect ideas from the public.
This is a referendum on municipal development planning of Ha Noi Capital. 
During this time, experts of related departments of Ha Noi such as Departments of Planning and Architecture, Natural Resources- Environment- Land-Housing, and Planning and Investment will explain in details when requested.