Hà Nội will plant 45,000 trees along Thăng Long Avenue, Chairman of the municipal People's Committee Nguyễn Đức Chung said at a meeting with voters in Hoàn Kiếm District on August 16.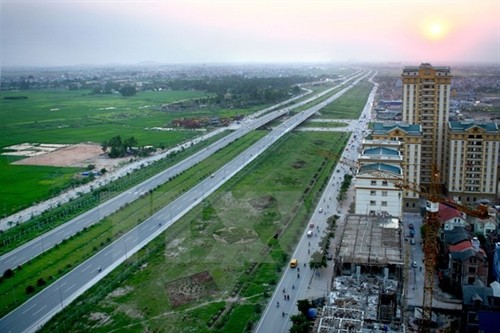 About 45,000 trees will be planted along Thăng Long Avenue in the future to make Hà Nội City green. — VNA/VNS Photo Huy Hùng
About 20,000 palm trees would be first planted in the near future, Chung said.
The tree-planting would make the city green from Ba Vì District to the National Convention Centre, he said.
The city has also decided to stop trimming trees along the avenue as well as in other areas in order to save billions of đồng spent each year on maintenance and care of trees, the chairman said.
The capital hopes to make progress in managing trees in 12 inner districts, including a plan to plant a million trees by 2020.
To achieve the target, the city has consulted scientists and relevant offices about the types of trees that should be planted.
Thăng Long Avenue, or Láng- Hòa Lạc Highway, located west of the city, links the city centre to the former Highway 21A, which is now the starting point of the Hồ Chí Minh Highway.
It also connects Hà Nội's inner areas with satellite urban areas, such as Xuân Mai, Sơn Tây and other localities.
The avenue is 30km long and 140m wide, with six lanes for vehicles.