Ha Noi officially became more than three times larger on August 1 following the merger of the neighboring province of Ha Tay and parts of Vinh Phuc and Hoa Binh provinces with it.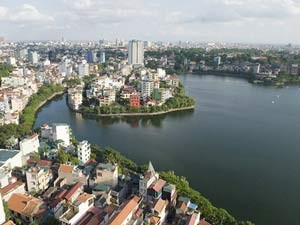 Truc Bach Lake in inner Ha Noi (Photo: SGGP)
Expanded Ha Noi includes entire Ha Tay, Me Linh District of Vinh Phuc and four communes of Hoa Binh. The total land area is 3,300 square kilometers and the population doubled to more than six million.
At a meeting of the new municipal legislature today, authorities will be named to major posts like the mayor, deputy majors and legislative chairperson. According to the Vietnamese government, there would be eight deputy majors at most.
In the second working day tomorrow, the councilors will decide budget for expanded Ha Noi in the rest of the year and issues in re-organization of local administrations and personnel.