A month after Ha Noi and Northern provinces experienced a shortage of vegetables, thousands of small crop farmers are being forced to sell their produce at dirt-cheap prices because of a surplus of vegetables.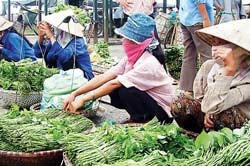 Farmers are selling their produce for peanuts because of a vegetable surplus in Ha Noi. (Photo: SGGP)
The surplus means people are paying just VND1,000 for buy three bunches of mustard leaves.
At night markets such as Den Lu in Hoang Mai District, Dich Vong in Cau Giay District, Nga Tu So in Thanh Xuan and Phung Khoang in Tu Liem and Long Bien in Hoan Kiem, vegetable prices are even cheaper, with customers paying VND1,000 for six or seven bunches of mustard leaves.
The number of vegetable in the market has increased three fold in the past month, a representative of the management board of Den Lu night market told SGGP.
The management board of Dich Vong night market said that the number of vegetables there had doubled over the past two or three weeks.
"Many vegetables are not selling, even clean fresh vegetables," Tran Van Hieu, the head of Van Noi safe vegetable cooperative in Dong Anh district lamented.
There are 18 cooperatives and two companies growing clean vegetables in Ha Noi.
After the floods that caused a shortage of vegetable Ha Noi in early November, people rushed to plant mustard.
Now, all the mustard plants are ready to be harvested at the same time. Hieu's vegetable cooperative alone harvests two to three tons of mustard leaves a day but is only able to sell one ton.
In Van Noi commune, there's 40 to 50 tons of surplus vegetables sold at super-cheap prices every day, meaning farmers are making substantial losses, Hieu said.
The Ha Noi Department of Agriculture and Rural Development said that Ha Noi had delivered 70 tons of vegetable seeds from the central reservation to farmers. About 40 tons of seeds were planted.
At present, about 11,500 hectares of vegetables, mostly varieties of mustard, are ready for harvest in Ha Noi and hundreds more hectares of crops are ready for harvest in neighboring localities.
Many farmers, who lost their corn, soybeans and potato crops in the floods, replanted their fields with mustard, Chinese flowering cabbage, chrysanthemum, cress and white radish.