Party General Secretary Nguyễn Phú Trọng has urged the central province of Hà Tĩnh to pay attention to sustainable development of both its industry and agriculture while promoting its tourism potential.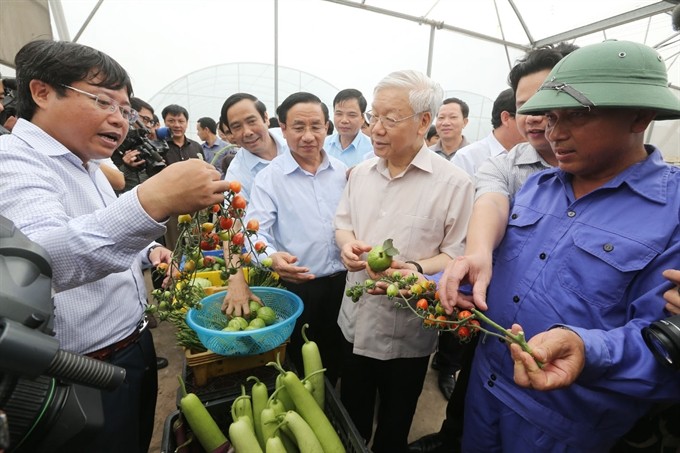 Party General Secretary Nguyễn Phú Trọng visits a project to produce high-quality vegetables and fruits using modern technology, while in the central province of Hà Tĩnh yesterday. (Photo: VNA/VNS)
At a working session with local authorities during his visit to Hà Tĩnh yesterday, Trọng also instructed the province to regularly review planning and ensure equal development between different regions in the province.
The province should also focus on high-quality human resource training, protecting the environment and keeping social order and safety in the context of international integration and development of the socialist-oriented market economy, he said.
He particularly stressed that Hà Tĩnh needed to continue enhancing Party-building work and promoting patriotic movements as well as movements to follow the example of late President Hồ Chí Minh.
At the same time, the province should better their efforts in administrative reform, reducing burdens for both people and businesses and improving the business environment, Trọng added.
Appraising recent developments in Hà Tĩnh, the Party chief said the province had developed on the right path in line with Party and State policies and its specific conditions.
Hà Tĩnh has taken strong steps towards industrialisation and modernisation, developing heavy industries on arid areas that are hard to develop for agriculture; developing infrastructure for both rural and urban areas; building new rural areas in connection with high-standard agricultural development; and developing co-operative economy, inviting businesses to invest in the province and creating jobs for local people.
The province also made progress in speeding up administrative reform, keeping national defence and security, and ensuring social order and safety, Trọng said.
The provincial authorities reported that the province recorded an average annual economic growth rate of over 18 per cent during the 2011-15 period. The rate of poor households dropped to 5.8 per cent in 2015.
Industrial production made a breakthrough development in 2015 with a growth rate of 37 per cent. The province has two economic zones and 19 industrial zones and complexes, which have attracted 446 foreign- and domestic-invested projects with a total registered capital of more than VND49.7 trillion (US$2.22 billion).
While in Hà Tĩnh, the Party Chief visited construction sites of some key projects, including the Sơn Dương Formosa Hà Tĩnh Steel and Seaport Complex and a project to produce high-quality vegetables and fruits using  modern technology.