The People's Committee in the north-central province of Ha Tinh has set up a team of inspectors to survey and estimate damage caused by excessive logging of ancient Fujian cypress (Fokienia) trees in Vu Quang National Park.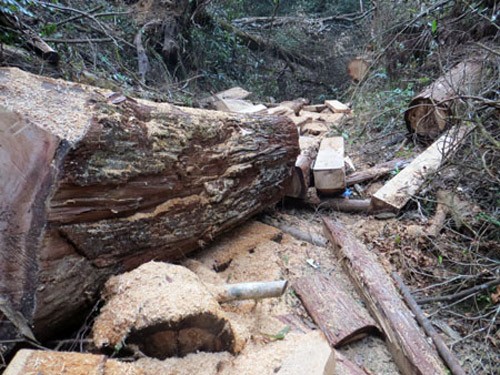 Ancient tree trunks lying chopped in Vu Quang National Park (Photo: NLD)
According to Dao Huy Phien, director of the National Park, the provincial People's Committee has instructed authorized organs to investigate the case and mobilize forest rangers and border military forces to block all paths and springs through which lumberjacks might possibly transport the logged tree trunks from the forest.
The illegal felling of Fujian cypress trees has been occurring from October to December in areas under the jurisdiction of Sao La and Hoa Hai Forest Management Stations. So far, National Park authorities have caught seven people red-handed in the act.
The logged area in the forest is located near the border of Laos, which has steep slopes and several high mountain passes. Access to some areas could take upto two days on foot.
The National Park management board has already penalized the seven lumberjacks with VND97 million (US$4,635). They have also dismissed Nguyen Dinh Le, head of the Hoa Hai Forest Management Station, and reprimanded seven forest rangers for failing their duty to protect the forest.