Nguyen Sinh Hung, Chairman of the National Assembly of Vietnam, held a meeting with major leaders of the northern central province of Ha Tinh on February 24, to review goals and tasks of last year and plans for this year.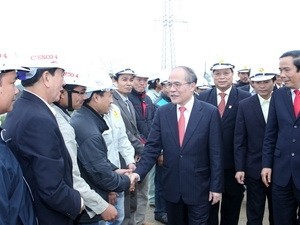 Chairman of the National Assembly of Vietnam Nguyen Sinh Hung visits workers of the renovation project on the National Way No.1A
Chairman Hung congratulated the local government on their achievements so far and encouraged local authorities to mobilize all possible forces to complete this year's projects while seriously implementing the Resolutions passed at the 4th Central Conference, on building a stronger communist party.

By overcoming shortcomings and firmly implementing the resolutions issued by the party, Ha Tinh Province expects to become an industrialized province in the near future, accomplishing several social and economic development plans in 2013.

On gathering ideas and opinions for amending the 1992 Constitution of the Social Republic of Vietnam, Chairman Hung stated that every suggestion from the public would be considered.
Sinh instructed local authorities to utilize all means, especially the media, to apprise citizens on the significance of providing practical suggestions to amend the Constitution.

All suggestions will be assessed by the central government in order to build a better draft amendment of the 1992 Constitution.
While listening to reports on the upgrade of National Highway No.1A--on the section going through the outskirts of Ha Tinh City to the south of Ben Thuy Bridge, Chairman Hung suggested that Company No. 475 and Civil Engineering Construction Corporation No. 4 speed up the project so as to fulfill the socio economic development plans of Ha Tinh Province as well as neighboring provinces.