The ceremony to inaugurate the road with the new name was held by the provincial People's Committee and the Vietnam News Agency (VNA) on June 17.
The 2km-long road runs from the Pho Chau intersection to Ho Chi Minh road in Pho Chau town.
The event is also to mark the 92nd anniversary of the Vietnam Revolutionary Journalism Day (on June 21) and the 70th anniversary of War Invalids and Martyrs' Day (July 27).
Martyr Tran Kim Xuyen was born in 1921 in Son My commune, Huong Son district, Ha Tinh province. He was appointed as Deputy Director of the Ministry of Home Affairs' Vietnam Information Department after the 1945 August Revolution and a deputy of the first National Assembly. He died in 1947, becoming the first revolutionary journalist to die in a battle.
He was awarded the Second Class Independence Medal and the first class Anti-France Resistance Medal.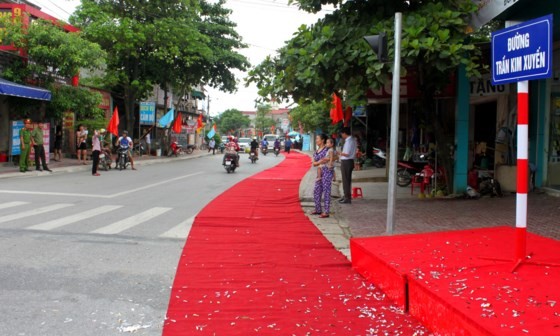 The 2km-long road runs from the Pho Chau intersection to Ho Chi Minh road in Pho Chau town. (Photo: Sggp)
Tags: