The contest aims at organizing a producing system of segmented fruits and choosing a national variety.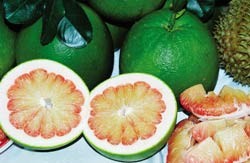 Hai Hoa Grapefruit
The variety of green skin and pink flesh grapefruit made by Mr. Le Van Hoa (Hai Hoa) in Ben Tre Province won the first prize for good quality and equal size of grapefruits.
This kind of grapefruit was also highly appreciated by the organizing committee and chosen as the national variety to be multiplied in the coming time.
This variety conforms to national standards such as seedless fruits, good taste, skin color, pulp color, sugar content and acidity; the average yield of the first-planted trees must be ten percent higher than other trees in the same orchard and grapefruits must be insect-free.