Prime Minister Nguyen Tan Dung promised voters in the northern port city of Hai Phong yesterday that the Government would promote production by cutting interest rates, curbing inflation and reducing credit growth in securities and real estate.
"The Government will also increase credit to the agricultural sector to boost exports," Dung said.
"The Party and Government are committed to improving the work of social security, particularly in health care and loans to students and others."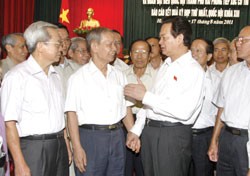 Prime Minister Nguyen Tan Dung meets voters in the northern port city of Hai Phong
PM. Dung said that to have rapid and sustainable development the city should focus more investment on developing infrastructure, including the Ha Noi-Hai Phong expressway, Hai Phong international airport, Lach Huyen port and high tech-industrial zones.
Regarding recent developments in the East Sea, the Prime Minister said national sovereignty was an alienable right.
"The Party and Government will continue to use the absolute power of the nation to firmly protect the homeland's sovereignty," he said.
"Truong Sa (Spratly) and Hoang Sa (Paracel) archipelagos belong to Viet Nam. So are the economic exclusive and offshore zones which are in line with the 1982 UN Convention on the Law of the Sea."
During the meeting, the Prime Minister took time to listen to Hai Phong voters' concerns.
Tran Van Thuc, former under secretary of the Hai Phong Party Committee, asked the National Assembly to pay more attention to education and training in the port city so that it could spearhead Government policies.
Dao Van Nhai, a representative for the Hai Phong Association of Small and Medium Enterprises, told Dung of difficulties in accessing credits for production development, largely due to high interest rates