Hai Phong newspaper from Hai Phong, Vietnam's third largest city, has expanded its network to southern Vietnam by opening a representative office in Ho Chi Minh City, the country's second largest metropolis.
The newspaper, the mouthpiece of the Communist Party Committee of the northern port city, launched the Ho Chi Minh City representative office on March 21.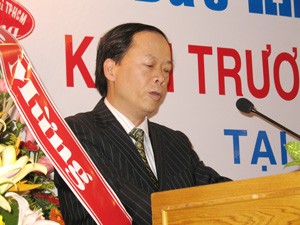 Hai Phong newspaper Editor-in-Chief Le Trong Nghia announces the opening of Ho Chi Minh City representative office here on Mar, 21, 2011 (Photo: Tuong Thuy)
Speaking at the ceremony, Hai Phong newspaper Editor-in-Chief Le Trong Nghia said opening the southern office aimed at buidling a new relationship between the two cities and putting his newspaper to a new height.
He said about 100,000 people of Hai Phong origin are currently living and working in HCM City. Therefore, the southern office will act as a bridge for them to know more about their hometown.
The office is located at 18Bis/27A Nguyen Thi Minh Khai Street, District 1.
Hai Phong newspaper issued its first daily in March 1957. The newspaper published its weekly in April 1989, and then launched an electronic newspaper early 2004.
The port city of Hai Phong is 120 km east of Capital Hanoi. The city holds a convenient position for transportation to other Vietnamese provinces and international networks via road networks, railway, sea routes, inland waterway and air.