An earthquake measuring 4.4 on the Richter scale was felt in Kien An District in the northern city of Hai Phong at 47 seconds after 10.18am on October 3.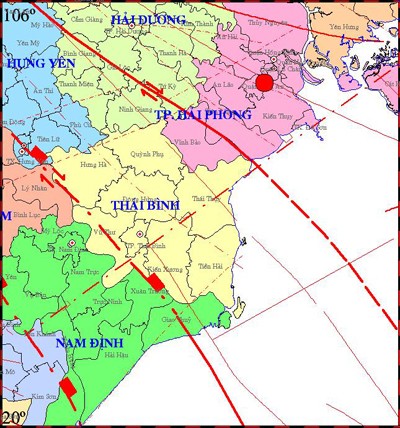 The red dot marks the epicenter of the 4.4 magnitude earthquake in Hai Phong this morning, October 3
The quake was said to have generated 20.99 degrees north latitude and 106.81 degrees east longitude, with its hypocenter 12 kilometers below ground level.
The quake caused tremors in Hanoi, where office workers in many high-rise buildings felt slight shaking.
According to the Earthquake Information and Tsunami Warning Center of the Institute of Geophysics, the earthquake could trigger tremors of level 5 on the MSK-64 scale.
People living close to the epicenter saw objects swing at the time the quake hit. Quake aftershocks might affect surrounding areas like Hanoi City and Quang Ninh, Thai Binh, Nam Dinh and Hai Duong Provinces.
This quake will not cause any considerable damage. The Earthquake Information and Tsunami Warning Center is continuing to keep a close watch on it's reoccurrence.