The Central weather bureau stated on June 25 that the tropical storm 'Haima', which hit Vietnam for the second time this year, had weakened into a low pressure zone, causing heavy rains in the Northern and North Central regions.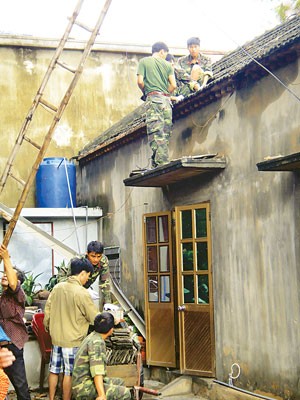 Soldiers help residents to repair their homes after the storm attacked An Lu commune in Hai Phong.(Photo:SGGP)
Bach Long Vi Island in Hai Phong City and Van Ly commune in Hai Hau District of Nam Dinh Province experienced 320 mm of rainfall; Thanh Hoa City saw 270 mm rainfall and Quy Chau District in Nghe An Province saw 240 mm of rainfall within the last 48 hours.
Heavy rains caused the Hoang Long River in Hoa Binh Province and some rivers in Thanh Hoa Province to overflow resulting in flash floods and landslides in Thanh Hoa Province.
The mountainous provinces in the north were also threatened by severe landslides. 130 households from Lao Cai Province were relocated to safer grounds as they faced risk of landslides and 370 households in the province are still in the process of relocating.
During the last two days, heavy rains have caused river water levels to rise in Hong, Da and Thuong rivers. Floods are expected within the next two days.
Two days of heavy rainfall has submerged 2,000 hectares of rice crops in Nam Dinh Province, 770 hectares of rice crops in Hai Phong City and over 1,100 hectares of farm produce in Nghe An and Nam Dinh provinces.
As per the Central Steering Committee for Flood and Storm Prevention, by 8 pm of June 25, 27 people were reported dead in Yen Bai, Hai Phong, Nam Dinh, Nghe An and Thanh Hoa provinces with 60 injured, thousands of homes destroyed and tens of  thousands of hectares of rice crop devastated.
Some sections of 7 and 48 highways leading to the mountainous districts of Que Phong, Ky Son, Tuong Duong and Nghia Dan of Nghe An Province were closed due to landslides as of 8:30pm on June 25.
On the same day, the tornado hit Long My District in Hau Giang Province in the early hours of the morning, destroying 40 houses, blowing up roofs of 58 houses and injuring two people.
The tornado also damaged a huge rice area as it went past speeds of 25 kilometres through Long My District and other communes like Vinh Vien, Vinh Thuan Dong and Long Binh.
Tornado damage is estimated at VND400 million. Province authorities will compensate VND7 million per destroyed house, VND3-5 million per roof destruction and VND1 million per injured person.
Related article:
15 dead, missing in 'Haima' typhoon