The Haitang typhoon caused havoc in the central region, inundating vast areas and killing two people on September 26.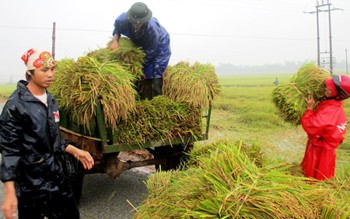 Farmers are rushing to harvest their rice crops to avoid rapidly rising floodwaters after Haitang typhoon lashed the coastal areas of the central province of Ha Tinh (Photo: SGGP)
According to the People's Committee in Huong Thuy town of Thua Thien-Hue Province, bodies of a couple that were washed away from a sunken boat two days ago, were found on September 26.
The boat carrying 50 year old man Pham Tang and his 42 year old wife Nguyen Thi Chung was overturned by heavy rains and strong winds on Dai Giang River on September 25. The couple is survived by their four children.
One seven year old boy has been missing since September 23 in Tay Giang District of Quang Nam Province, suspected to have been swept away while catching fish with his mother.
Meanwhile, the border armed force in Phu Yen Province said they have yet to find Nguyen Vu Lien, a member of a fishing boat team, who fell into the sea on September 26 while his boat was enroute to a shelter.

In related news, after deflecting from the Philippines on the morning of September 27, Nesat typhoon has now located east of Luzon Island at 16.6 degrees north latitude and 120.4 degrees east longitude. It packed wind gales of level 12-13, moving at 118-149 kilometers an hour.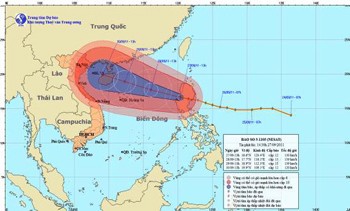 Photo shows direction of Nesat typhoon which is approaching the East Sea after deflecting from the Philippines on September 27 (Photo: the national weather bureau)
Within the next 24 hours, the storm is forecast to move west northwestwards at 20 kilometers an hour. By 1pm on September 28, it will be centered 430 kilometers east northeastwards of Hoang Sa (Paracel) Islands. Wind gales are expected to remain unchanged.
Related articles:
Haitang typhoon weakens into tropical depression
Central Vietnam embraced for storm's landfall
Tropical pressure in the East Sea turns into 'Haitang' typhoon