Thousands of handicraft villages that provided a livelihood to millions of people across the country are currently facing hard times with relatively little or no trade and huge unsold inventory.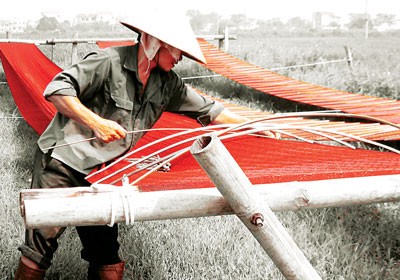 A man at a silk weaving unit in Van Phuc Village of Ha Dong District in Hanoi (Photo: SGGP)
Van Phuc is a well-known silk village in Ha Dong District in Hanoi and once patronized by domestic and foreign visitors. Thanks to silk weaving the villagers flourished and enjoyed a comfortable way of life.
However, in the last several months the small silk shops in the village show piled up inventory and the numbers of visitors have dwindled considerably. Several households have even had to shut down their looms for lack of resources.
Nguyen Van Sinh, chairman of Van Phuc Silk Village Association, said that 40 percent of the looms are at present not operating and 30 percent households have quit silk weaving and switched to other jobs in the last two years.
Van Phuc silk sales dropped to only two million meters last year, one third compared to three years earlier.
Besides Van Phuc Village, other well-known handicraft villages that helped make hundreds of people into billionaires, like Bat Trang for pottery, Phu Vinh for rattan and cane, Ha Thai for lacquer, Dong Ky and Van Ha for wooden furniture are also in the same situation.

Shops in Dong Ky Village in Tu Son District of Bac Ninh Province are facing huge stockpiles of unsold items and some have even shut down.
Dong Ky is known for high end wooden furniture. Eighty percent of the products were earlier exported to China and the rest to Japan and Malaysia, bringing in a total revenue of VND300 billion (US$14 million) a year.
The village provided employment to more than 4,500-5,000 workers from various provinces during peak months, usually towards the year-end around Christmas and New Year.
Unfortunately for the last two years the village has seen a downward trend in sales and as a result several of the small-scale businesses are in debt to banks and forced to lay off workers.
Vu Duc Ngoc, owner of a furniture unit, says he can barely employ 4-5 skilled carpenters now from an earlier total of almost 50-60 workers.
Da Hoi steel Village, neighboring Dong Ky Village, comprises of 1,700 steel production units, several of theses having subsidiary units in Laos.
According to Do Van Hien, chairman of the People's Committee of Chau Khe Commune, Da Hoi Village is facing tough times due to a stagnant real estate market. This has led to a drop in sales of construction materials, with steel being severely affected as a result.
Several businesses were forced to sell their property to pay off bank debts last year. Many others could not pay back huge debts of 10-11 billion or even 20 billion ($952,000) and have fled the village.
Tran Van Bien, owner of Thuy Ben steel unit, said he used to produce 400 tons of steel a day, which now has shrunk to half that amount. Earlier, the village employed 4,000 workers in this trade but now they have been reduced to only 300.