According to the decision, the agency will criminally investigate the case for charges with arresting, keeping or detaining people illegally under the Article 123 of the Criminal Code and destroying or deliberately damaging properties as per the Article 134 of the code.

At present, the agency is working with authorized agencies to investigate and clarify the case to strictly violations as per the law.
On April 15, a number of residents in Dong Tam commune smashed cars, illegally arrested 38 policemen and officials to oppose local authorities' way of solving their complaints and denouncements relating to Senh field land reclamation. The detained men comprising officials of My Duc district and policemen were kept at Hoanh village's Cultural House.
On April 18, Hanoi Police said that Dong Tam people had released 15 policemen and three escaped themselves. Four Dong Tam residents arrested by the police before were let out, of them 82 year old Le Dinh Kinh was still treated in hospital.
Hanoi People's Committee chairman Nguyen Duc Chung had an dialogue with residents' representatives in the headquarters of My Duc district's People's Committee on April 20.
On April 24, he directly came to Hoanh village to talk and was welcomed by villagers who then set free the remaining of 19 officials.
At the meeting, Mr. Chung committed to not launching criminal prosecution against Dong Tam residents, making clear responsibilities of officials relating to the arrest and hurt of Mr. Le Dinh Kinh and clarifying whether Senh field in the commune belongs to national defense land.
Subsequently, Mr. Chung said that the city had decided to comprehensively inspect land management and use in the Senh field within 45 days. Inspection results would be publicized.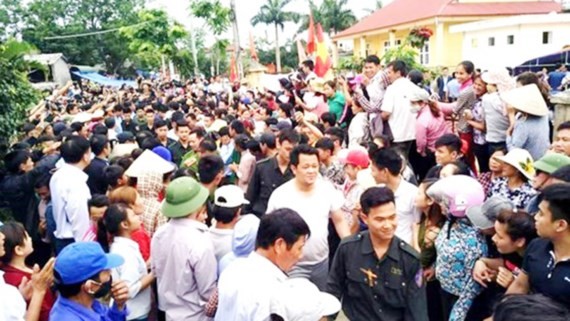 19 officials and policemen released after the dialogue (Photo: SGGP)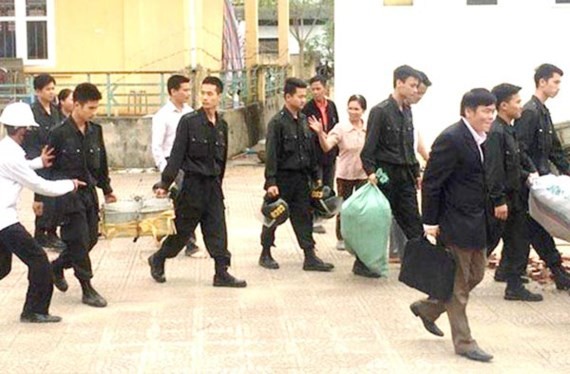 19 officials and policemen released after the dialogue (Photo: SGGP)