The Hanoi People's Committee has approved the Department of Science and Technology's measures to remove red-eared turtles from Guom Lake (Sword Lake).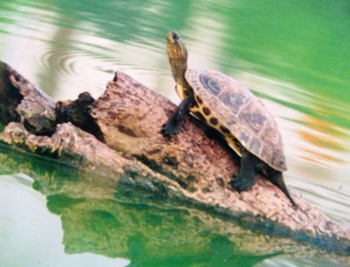 Hanoi will use cages and nets to catch the red-eared turtles that have thrived in the waters of Sword Lake
The department proposed to catch the turtles by two main ways. The first by means of baited cages, which will be placed under the water. The second way is to have floating traps which lure the turtles into the nets.
Therefore, the department will use catching devices that will not have an impact on other living species that inhabit the lake.
The People's Committee said in order to bait the turtles into the traps, insects will be used. This is to ensure that no environmental damage will be caused to the lake.
According to Sai Gon Giai Phong records, the red-eared turtles have been sold widely at the Huong Pagoda in Hanoi and the Yen Tu Pagoda in Quang Ninh Province although the pagodas' management has banned street vendors from selling the invasive turtles.
Related article:
Hanoi seeks to destroy red-eared turtles
Red ear turtles intrude Hoan Kiem Lake