Catholic priest Nguyen Van Khai of the Hanoi-based Thai Ha Parish made an announcement on April 23 which undermines the country's interests, the Vietnam News Agency said in an article on April 26.
Below are some excerpts from it:  
Mr. Khai began the announcement provocatively: "In light of the injustice spreading in society, in light of the living conditions of our people, especially that of ethnic minorities in Central Highlands, that are threatened by the policy to develop bauxite mining there, in light of lands being occupied brazenly in many places, including Thai Ha Parish …"
Mr. Khai said he "invited" – though he actually induced – parishioners to come to Thai Ha Church on April 25 for a prayer service related to these issues, the story said. 
As for the policy to develop bauxite mining in the Central Highlands, which Khai said might destroy the environment, the Politburo has made an announcement on the plans to explore, mine, process, and use bauxite here until 2015.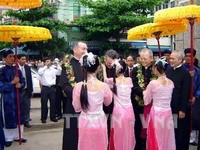 The Vatican dignitaries visitted Viet Nam from March 5 to 11-2007 to recognize Vietnam government's policy respecting and ensuring the freedom of beliefs and religious practices in Viet Nam, especially regarding Catholicism.
In it, the politburo said developing bauxite mining is a constant policy of the Party.
The public remains uneasy about an earlier instance in which some Thai Ha priests induced parishioners to cause public disorder under the pretext of reclaiming some lands the parish claimed was its. 
The case was resolved by the Hanoi People's Committee, which concluded that the land claim was not based on any legal foundation and was illegal. Authorities punished people who flouted the law in this case.
Once again Mr. Khai has claimed that lands in many places, including Thai Ha, have been occupied arbitrarily.
On the night of April 25 a number of Thai Ha parishioners flocked to their church to hear some priests speak. Father Khai, who acted as the master of ceremonies, continued to distort the actual situation and urged parishioners to take part in an effort to "claim back land and protect the environment."
Father Khai actions are in violation of the Criminal Code's Article 88, which deals with propaganda against the State.