A meeting to celebrate the 55th anniversary of Hanoi's Liberation (October 10, 1954-2009) was held at the Friendship Palace on October 9.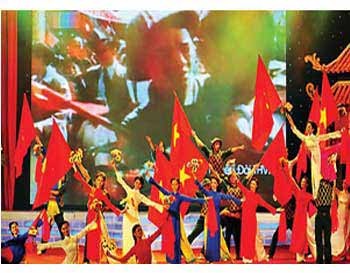 A dance performance at the meeting in Hanoi on October 9 to welcome the 55th anniversary of Hanoi's Liberation Day (October 10) (Photo: SGGP) 
The meeting was also a chance to praise the movement "Good person-good deed" and to promote an emulation movement for the city's 1000 th birthday.
Former and incumbent Party and State leaders, leaders of the Hanoi municipal authorities, the Vietnam Fatherland Front, heroic mothers, representatives of mass organisations and individuals honoured by the "Good person- good deed" movement attended the meeting.
Addressing the meeting, Hanoi People's Committee Chairman Nguyen The Thao said October 10, 1954 was a milestone in the city's history.
The day marked the complete defeat of colonialism and the glorious victory by the Vietnamese people in their fight against the French invaders, he said, adding that the day also opened up a new era for the development of the capital and the country as a whole.
After reviewing the city's 55-year development, Chairman Thao stressed that the city is becoming a capital of "culture and learning."
On behalf of the municipal authorities, he launched an emulation movement to welcome the city's 1000th birthday.