A strong cold spell is likely to hit the northern regions January 13 and then move down to the southern regions, according to the Hydro-meteorological Forecasting Centre.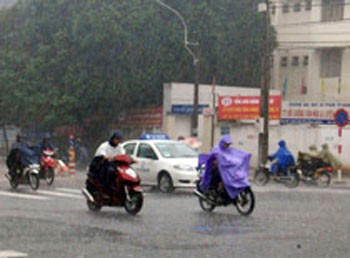 Ho Chi Minh City suffers out-of-season rain over the last few days
Temperatures in the northeastern region will reach a low of 2 to 5 degrees Celsius.
Lang Son 2°C, Cao Bang, Bac Can 3°C and Son La 5°C.
While the northwestern region will face very cold weather, at 7-9 degrees, mountainous areas will drop to 2-4 degrees.
There will be scattered showers in central coastal areas.
With clear skies over Hanoi, temperatures are dropping quickly at night, with a peak of 6°C last night.
According to the National Hydrometeorology Forecast Center, the next few days will see the cold front move further south, lowering temperatures by 1-2 degrees.
The forecast is for warmer weather over the next few days but will become cooler on Tet New Year's day.
According to the Ho Chi Minh City Southern Meteorology and Hydrology Forecasting Centre, average temperatures are back to normal in Ho Chi Minh City after a two day cold snap.
Low daytime temperatures of 17 to 20 degrees were recorded.
With dry, cloudy and dull weather, children, the elderly and people who have breathing and cardiovascular problems may feel tired.
Farmers have faced difficulties sowing rice due to the changing weather.
Over the next two days Ho Chi Minh City will continue to be influenced by the cold front over northern Vietnam but temperatures will soon begin to rise.