With severe weather having caused a lack of vegetables and driving up prices six-fold, many Hanoi locals have spotted an opportunity.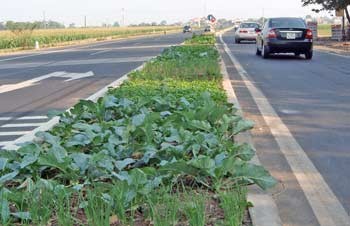 Vegetables are grown on the reservation of hightway 2 in Ha Noi city.
Allotments have sprung up along 10km of the central reservation of highway 2 though Soc Son and Me Linh districts.
Along the streets, most households are business people, they do not have fields but as the reservation was unused many locals decided to grow vegetables, Ngo Van Suu, 73, owner of another plot in Soc Son district told Sai Gon Giai Phong.
Many households' fields have been submerged, with the road being on higher ground gardens are easier to take care of, Vu Thi Thanh, 50, said.
Many small gardens in the reservation on Hoang Quoc Viet Street, Cau Giay district, are even fenced and locked carefully.
Mr Suu said 2,500 households of Soc Son and Me Linh districts are trying to grow vegetables on the strip. Gardening on the land began 3 months ago and with last month's floods its use has increased. Vegetable prices have skyrocketed and so has the rush to grow vegetables.
With thousands of vehicles driving past everyday, watering and picking vegetables on the reservation is a very dangerous business.
Local's resourcefulness has also led to the use of dykes.
Along 2km of dyke from Chuong Duong bridge to Long Bien bridge in Long Bien district the ground, formerly grass and flowers, has been dug up and turned into vegetable patches.
 
Within a week the land was hoed, irrigation channels dug and paths created.
Every afternoon, people go to the dyke to seed, prune, water and putdown fertilizer, which has created a positive community atmosphere.
Crops, such as corn, pumpkin and chayote, all untypical for the Hanoi area, are now being grown.
Ruralizing the urban
Vegetable growth is not limited to the dykes and verges of roads but can be found on the roofs of tenement houses and in the middle of new urban areas.
In many places within Hoang Mai and Cau Giay districts, people have sought to grow vegetables in available space including ornamental gardens in the new suburbs, Ms Lan from Hoang Kim said.
Within the new suburbs, image and issues of traffic safety have so far prevented central reservations from being converted.