A "High Level Meeting for Strengthening Clusters and Information Management in Response to Disasters in Vietnam" was held in Hanoi September 24 by the Inter-Agency Standing Committee, a forum for coordination, policy development, and decision-making involving UN and non-UN humanitarian partners,.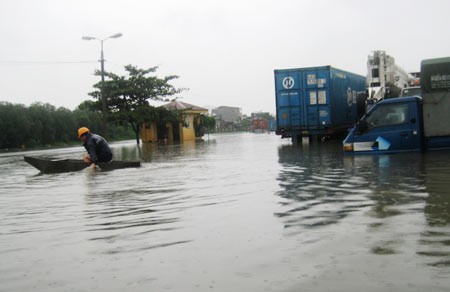 A flooding scene in Vietnam
The objective of the meeting was to improve the Government, UN, and non-UN partners' knowledge of cluster management and information management for disaster response and support the Government's engagement as a leading actor in this process.
Vietnam has long experience with managing recurring medium-impact disasters. It has a broad legal framework, institutions, human resources, and various active coordination bodies.
But to be prepared for mega disasters, the Government and its partners have agreed upon the pertinence of setting up a "cluster approach" in Viet Nam under the leadership of line ministries.
The international community will actively assist this process.
Delegates agreed on the need for improving the disaster legal framework, assessing and boosting capacities of disaster practitioners, upgrading disaster coordination mechanisms, and strengthening disaster management information systems.
Mr. Dao Xuan Hoc, Deputy Minister of Agriculture and Rural Development, said in his opening remarks that the "legal framework for disaster response is not sufficient. We need to work with our international partners to be fully prepared for responding to major disasters."
"The country spent over VND5 trillion (US$277.8 million) on irrigation works to cope with disasters in 2009."
Dr. Hoc and the United Nations Resident Coordinator, Jesper Morch, co-chaired the meeting which was attended by delegates from all disaster-related government agencies, UN agencies, and NGOs.