The awards ceremony for Vietnamese Talent Awards 2012 was held in Hanoi on November 19 to honor outstanding talents in the three sectors of Information Technology (IT), Health and Applied Sciences.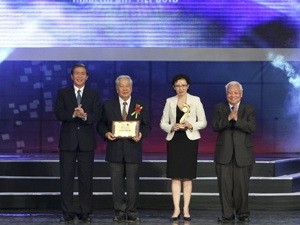 Dinh The Huynh (Ext. L), head of the Party Central Committee for Propaganda and Education, presented the award to authors of the flood control project in Long Xuyen Quadrangular (Photo: VNA)
This year there were no clear winners for the two first prizes in the category of Successful IT Products and Potential IT Products.
Two second prizes were given for Potential IT Products to 'News Reading Assistant' (VINAS)--a system that converts e-newspapers into audible voice; and 'Viet Voice Serve' (VIS)--an auto responder system.
BIDV@SECURITIES, an online pay portal, was presented with the third prize in the category of Potential IT Product.
In the health sector, Professor and Dr. Nguyen Thanh Liem, Director of Central Pediatrics Hospital, received the Life-Long Achievement Award for his research in endoscopic surgery on children.
A project on kidney and liver transplants from organ donors and brain dead people at Cho Ray Hospital received a Collective Achievement Award.
Vietnamese Talent Award for Applied Sciences was given to authors of a project to control floodwaters in Long Xuyen Quadrangular.
The project was conducted by late Professor and Dr. Nguyen Sinh Huy and Associate Professor and Dr. Ho Van Chin, from the Institute of Geology and Natural Resources in Ho Chi Minh City under the Institute of Science and Technology, together with their colleagues.