The Department of Information and Communications in Hanoi has asked all telecom companies to put a stop to services provided to 1,635 phone numbers, being used for illicit advertising purposes.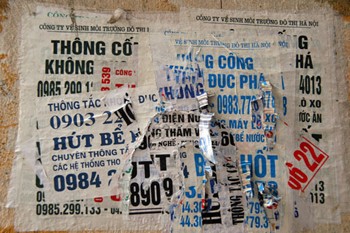 Illegal advertisements pasted in several places around Hanoi (Photo: VnExpress)
The department asked the telecom companies to discontinue their services to such phones on September 9. Officials in the department will reconsider use of those phone numbers by individuals and organizations that pledge not to misuse their phones for illicit advertising purposes, said Pham Quoc Ban, director of the department.
Besides, they must also get a confirmation in writing from local authorities of having already removed all advertisements glued and stuck in many prohibited locations.
The department plans to take stricter action in disconnecting illegal phone numbers being used for illicit advertising purposes.