A forum on trade – tourism promotion between Hanoi and Japan took place in the capital city on March 10, with a range of cooperation pacts signed.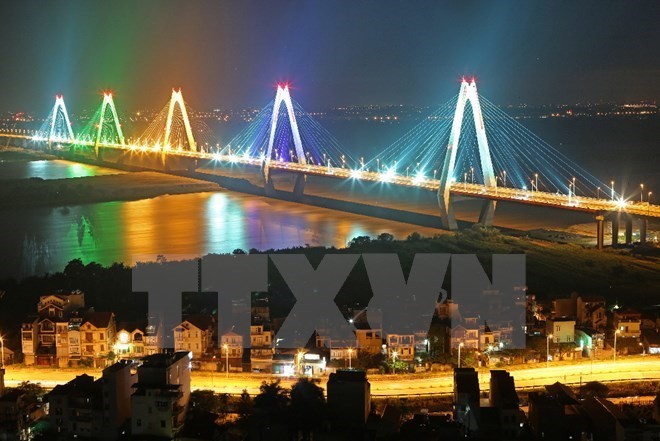 The Nhat Tan bridge, a symbol of Vietnam-Japan cooperation (Photo: VNA)
Chairman of the municipal People's Committee Nguyen Duc Chung said Hanoi welcomes Japanese investment in high-tech agriculture, urban railway projects, human resources training, tourism and health care.
He pledged to create favourable conditions for Japanese investors.
Nagai Katsuro, who oversees economics affairs at the Japanese Embassy in Vietnam, said Japan has strongly invested in Vietnam for years and intends to increase capital in the northern region, including Hanoi, to make use of the competent workforce and potential market.
The Japanese Government is considering raising official development assistance for Vietnam with a particular interest in major infrastructure projects in Hanoi, he noted.
He also highlighted the appeal Vietnam has for Japanese tourists.
Participating Vietnamese and Japanese firms discussed cooperation in tourism, health, culture, and transport.
As part of the forum, Hanoi authorities and Japanese investors signed memorandums of understanding on various joint projects in the city, including the building of a shopping mall, the transfer of automatic flower cultivation technology, and the provision of flower seeds. Other projects mentioned were on developing an international-standard medicine distribution system and training operators for the Hanoi Metropolitan Metro Railway project.
Japan is now the top investor in Hanoi, with more than 800 projects worth about US$5.2 billion