Hanoi Transport Department on May 8 began construction of a flyover on the Nguyen Chi Thanh-Lang Road crossroad at a total investment of VND348 billion (US$16.6 million).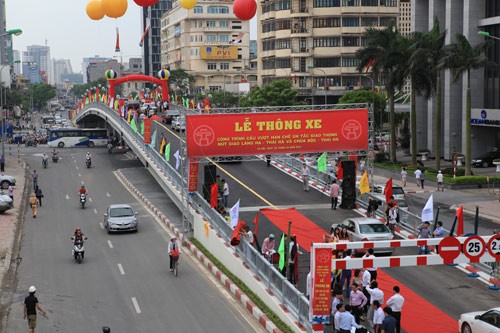 Lang Ha-Thai Ha flyover (Photo:VOV)
The four lane flyover will be 315.7 metres long and 16 metres wide and is greatly expected to ease the persistent traffic congestion in that area.
The project is expected to be complete by October 2012, ahead of Tet Lunar New Year 2013.
On April 26 Hanoi officially inaugurated two new flyovers on the Chua Boc-Tay Son and Lang Ha-Huynh Thuc Khang crossroads, built in a record four months.
Hanoi Transport Department has built several steel overpasses for cars and motorbikes at T-junctions, particularly in areas where traffic jams occur frequently such as Lang Ha-Huynh Thuc Khang; Chua Boc-Son Tay; Lang-Le Van Luong; and Lang-Tran Duy Hung.