Representatives of the ministries, departments and local authorities visited Sai Gon Giai Phong Newspaper's display booth in Hanoi on February 9.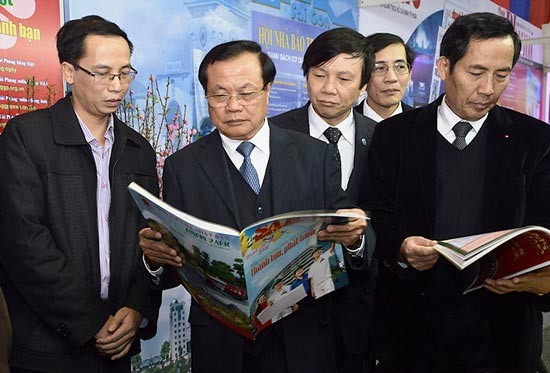 Leaders of ministries and departments visited Sai Gon Giai Phong Newspaper's display booth on February 9. (Photo:SGGP)
The President of the Vietnam Journalists Association (VJA) and Editor-in-chief of Nhan Dan newspaper Thuan Huu, Deputy Minister of Informatics and Communications Truong Minh Tuan and a delegation of the leaders of Department of propaganda and training, Ministry of Informatics and Communications, Vietnam Journalists Association and local authorities visited the SGGP's display booth in February 9 on the occasion of the Spring Press Festival which being taken place in Ha Noi.
On behalf of city leaders, Hanoi Party Committee Secretary Pham Quang Nghi said that ministries, departments and States agencies alway kept a close watch to articles, which were published by Saigon Giai Phong Newspaper.
On the occasion, Secretary Pham Quang Nghi praised newspapers and articles under spring theme with the best decorated cover page and arrangement in the booths.