The Hanoi People's Committee on March 7 approved a plan to preserve and restore the ancient village in Duong Lam Commune, Son Tay Town .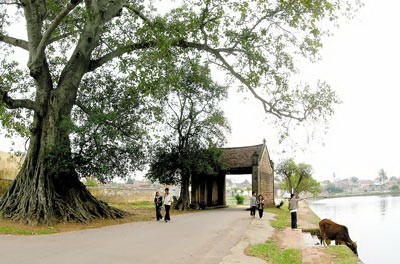 Duong Lam Ancient Village (Photo: SGGP)
The original structures and landscape in the village will be preserved including relic sites, rice fields, and Tich River.

Construction of up to three-story houses will be permitted along alleys in Dong Sang, Cam Thinh, Doai Giap, and Cam Lam Hamlet if they meet design requirements.

Mong Phu Village's entrance gate will be restored and the nearby banyan tree will be kept.

All sheet-metal roofs and stainless steel water tanks will be removed. The ancient well and nearby drainage system will be renovated.

Forty-two houses two stories tall will be covered with trees to prevent destruction. The Hanoi People's Committee ordered Son Tay Town authorities to build a new residential area in Phu Khang Hamlet to relocate residents from the ancient village and find more resettlement areas in Duong Lam Commune.

Son Tay Town should also work with Department of Culture, Sports and Tourism to estimate values of every relic site and determine zones of the ancient village.